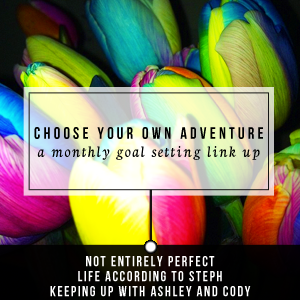 I'm linking up with the awesome Stephanie from

not entirely perfect

, Stephanie of

life according to steph

, and Ashley

keeping up with ashley and cody! I started off the month thinking I would accomplish my one mile per day for a month 101 task. Unfortunately other things came up so I didn't end up looking into a pedometer or fitbit. Not going to drop money on something that won't work for me!
So I decided to just move more. I made a concerted effort to do things like park further away from the store, walk up a couple of floors at work then take the elevator, and get up during commercials and put items away around the condo. The extra moving has definitely paid off this month since I maintained two weeks and lost two! I'm at 15 lbs total lost now : )
I'm super excited for the adventure this month ... food!! This is one adventure I know I can excel at!
1. Cook six recipes out of 29 Minutes to Dinner cookbook. I've been rocking out one a week for the last month but I need to step it up if I'm going to get through the entire thing by the summer.
2. Hit up one of the two

restaurants I need to complete that 101 task.
3. Keep reducing my snacking. That's my biggest downfall when it comes to losing weight.
You should really join in this next month and choose your own food adventure!!