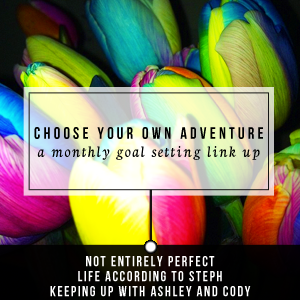 Another month has flown by and it's time to pay the piper with the "Choose Your Own Adventure" challenge. I just looked back at my goals and I'm actually really impressed that I was able to accomplish I'd say about 90% of it!!
Cook 6 recipes ... I didn't end up doing two extras but I was able to do one extra in addition to the one per week I've been doing. I'd say that's still pretty good.


Visit one of the restaurants
... done and done. Kevin and I went to
Superdawg
for dinner a couple weeks ago. It was a good joint. My hot dog was a good all beef and Kevin enjoyed his polish sausage. I would definitely go back and order something different, the whole atmosphere of the drive in was a lot of fun. What can I say it's Portillo's hot dog or nothing for this girl!
Reduce snacking
... I had already been doing pretty well at this task and I felt I did pretty well this past month. Since I came out with the same weight as I came in to the month (gained a little then was able to loose it) I would say I've been consistent. Obviously I need to step it up even more to keep the number always going down. portioned out some of my snack stuff this morning : )
November - Organize
1.
Organize my Pampered Chef papers
- It's a mess to say the least. There is a little bit of organization but I really need to label and sort more.
2.
Work on my magazine hoarding issues
- I'm sure the picture says it all!
3.
Pack more boxes -
We've been doing very well getting ourselves ready to put the condo on the market but there has been a little slacking on the packing and recording what's in the boxes.